Mary Robinson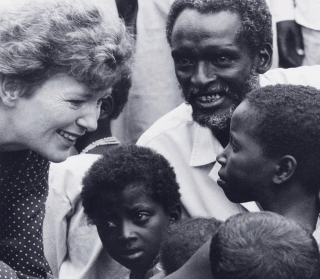 Born on 21 May, 1944, in Ballina, County Mayo, Mary Robinson is a barrister by profession and was appointed Reid Professor of Criminal Law in Trinity College Dublin when she was 25 years of age. With her husband, Nicholas (married 1970) she founded the Irish Centre for European Law in 1988.
Elected as a representative of the University of Dublin, she was a member of Seanad Éireann (Upper House of Parliament) 1969 -89.
She served on the following parliamentary committees:
Joint Committee on EC Secondary Legislation 1973 – 89 and Chairman of its Social Affairs Sub-Committee 1977 – 87, Chairman of its Legal Affairs Committee 1987 – 89; Joint Committee on Marital Breakdown 1983 – 85. She was a member of Dublin City Council 1979 – 83.
On 3 December, 1990, Mary Robinson was inaugurated as the seventh President of Ireland. She resigned from the office of President on 12 September, 1997, to take up appointment as United Nations High Commissioner for Human Rights.