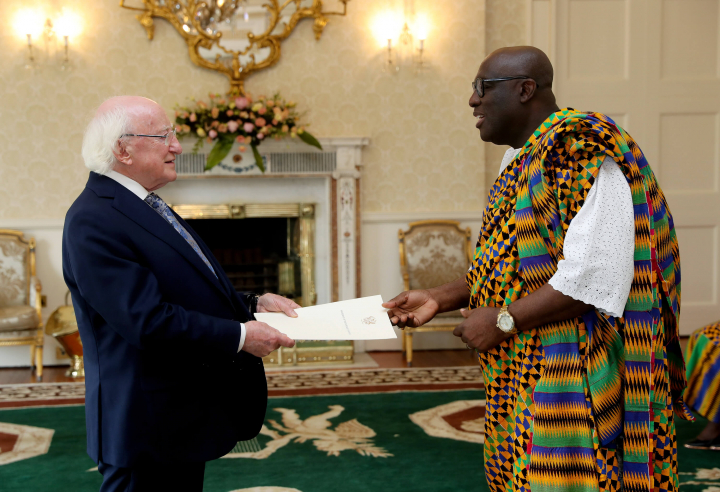 Last year, 33 foreign Ambassadors presented their Credentials - the official documents identifying the new Ambassadors as official representatives of their Head of State - to President Higgins.
Upon their arrival in Ireland, and before they can carry out their duties, new ambassadors must be officially welcomed by the President of Ireland. Ambassadors are officially accredited to Ireland from the moment that the President accepts their Credentials.
The Ceremony of Presentation of the Letters of Credence takes place in the State Reception Room at Áras an Uachtaráin. After the ceremony, the President invites the new Ambassador to a private meeting, after which military honours are rendered outside the Áras.
You can watch short videos of the ceremonies here and here.
On 13 July 2018, H.E. Omar Al-Nahar, Ambassador of the Hashemite Kingdom of Jordan, H.E. Dr. Soeung Rathchavy, Ambassador of the Kingdom of Cambodia, H.E. Mr. Derick Ally, Ambassador of the Republic of the Seychelles and H.E. Mr. Papa Owusu Ankomah of the Republic of Ghana presented their letters of credence to the President of Ireland.